Between Light & Shadow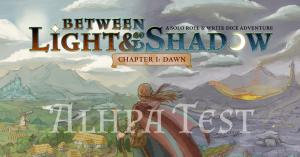 Between Light & Shadow is making tremendous progress in its development. The game sheets are ready, the basic game is well playable and the scenarios, if not yet fully balanced, are at least playable enough to bring a great amount of variety to the game.
Over the next few weeks, the rules and story will be finalised and the game will continue to be tested by the community. Of course, we will listen to your feedback and implement all improvements. The first step will be a big Let's play together online test round of the English version. After that, the first blind tests of the German rules will take place and then the game will be quite ready, so that we can possibly release it before the end of the year.