Between Light & Shadow progress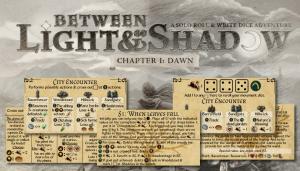 Between Light & Shadow is making great progress. Both in development and in testing and improving through your feedback, we have made several steps forward and have already reached the beta phase of testing. So you won't have to wait much longer until you can start Mara's great adventure. But what has actually improved?
In the meantime, the basic game including the step-by-step rules explanation has been extensively tested and improved. By popular demand, we have increased the difficulty and also integrated even more room for manoeuvre for winning the basic scenario into the game. This basic version is ready. In addition, the complete chapter campaign with the additional scenarios and multiple consequences is now playable and has already been tested several times. Now it's mainly about balancing and story adjustments. Our graphics for the cover are also as good as finished, so that only the rules need to be finished and subjected to some blind tests and then the game can move to your home.